Suncorp chief executive Steve Johnston says the strength of the balance sheet and the economy will be the crucial factors that determine dividends, after announcing a wave of extra costs to its bottom line.
The financial conglomerate on Monday said its flagship insurance division had taken a $205 million hit from market volatility in the March quarter, as its banking arm took a $133 million bad debt charge.
The wide-ranging update, which also included extra costs of up to $70 million from underpaying staff, sparked debate over whether the company would slash the dividend at its full-year results in August, or defer the payment as some banks have done.
Suncorp also revealed the surprise resignation of banking chief Lee Hatton, who left the bank after only three months in the job, quitting for buy now, pay later business Afterpay.Advertisement
Mr Johnston said the board would take retail shareholders' desire for dividends into account when deciding on the full-year payment in August, but the strength of its capital position and the economic impact of COVID-19 would come first. "A lot of retail shareholders rely on the dividends from companies they invest in, particularly those who are invested in financial services," Mr Johnston said in an interview with The Sydney Morning Herald and The Age.
"We'll be very minded to that element on behalf of our retail shareholders but equally a retail shareholder is not well-served if we pay a dividend and the company's capital position becomes tenuous."
Mr Johnson noted that as Suncorp does not need to decide on a dividend until August, it would have more to assess economic conditions.
In its insurance division, the pandemic had a mixed impact, with higher claim costs from landlord insurance and lower claims on motor policies because there have been fewer cars on the roads. There was a $205 million mark to market loss in the insurance division's investment portfolio in the March quarter. Its banking arm took a $133 million provision for bad loans caused by the pandemic, but this was a smaller impact than at the major banks, and its shares rose 4.2 per cent, to $9.28.
Investors mutual portfolio manager Michael O'Neill, who is invested in Suncorp, said its capital appeared robust after the bank said it held $682 million in excess capital. "They're certainly in a better position to consider a final dividend than the major banks. I would expect a modest dividend, all depending on how this progresses," Mr O'Neill said.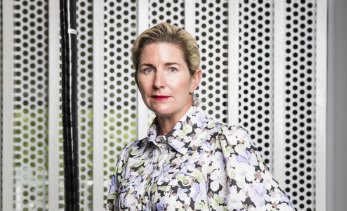 Morningstar analyst Nathan Zaia said he expected a dividend but with a much lower payout ratio than the 90 per cent of earnings paid out to shareholders last half.
Bell Potter analyst TS Lim also tipped Suncorp would pay a dividend, highlighting that it was taking smaller provisions for bad debts than the major banks.
Shaw and Partners analyst Brett Le Mesurier said the combined impact of the announcements on Monday would dent Suncorp's profit significantly, even though its mark to market losses were smaller than IAG's.
"I don't think they will be paying a dividend. When you add up all the numbers they announced today, they are not doing to be left with much of a profit," Mr Le Mesurier said.
Ms Hatton, who was recruited by Mr Johnston, said she was leaving the banking CEO role after reassessing the impact on her family of commuting between Sydney and the bank's head office in Brisbane.
Suncorp also became the latest major Australia company to underpay staff, pointing to errors in its payment of overtime, shift penalties and public holiday loadings. It estimated the combined costs of reimbursing staff and correcting errors in its systems would be between $40 million and $70 million.